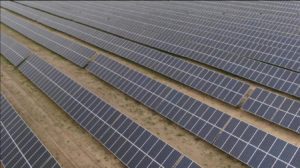 VR Capital Group (the United States), an alternative asset manager specializing in global emerging markets, has acquired the remaining stake in alternative energy projects jointly developed with ICU independent asset management, ICU reported on its website.
According to the report, deal covers green energy facilities in Kamyanets-Podilska solar plant (64 MW) in Khmelnytsky region, Solar Capital energy company (35 MW) in Kherson region and a number of small stations in Mykolaiv region (with a total capacity of 127 MW).
Terms of the transaction were not disclosed.
The ICU only said the transaction has been approved by the Antimonopoly Committee of Ukraine on July 4, 2019.
"I am still confident that these assets are in good hands and that the key alternative energy sector in Ukraine is positioned to attract further large foreign investments. We see a great potential in our economy and we continue our work with international investors," said ICU managing partner Makar Paseniuk.
He said that VR Capital has been a visionary among western investors in understanding the enormous potential of Ukraine and being ready to support the country even during difficult times.
VR Capital Group Ltd., through its principal subsidiaries including VR Advisory Services Ltd (together, VR Capital Group) is an alternative asset manager with assets under management in excess of $4.5 billion. VR Capital Group's external client base is primarily composed of institutional investors from the United States and Western Europe, including university endowments, charitable foundations, family offices and institutional asset allocators.
Founded in 2006, ICU is Ukraine's leading asset manager with over $500 million in assets under management. Managing Partners Makar Paseniuk and Konstantin Stetsenko are majority shareholders of ICU.
ALTERNATIVE, DEVELOPED, ENERGY PROJECTS, ICU'S, SHARE, US VR CAPITAL