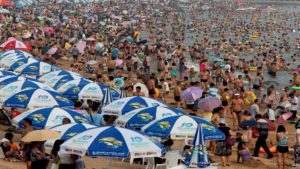 An annual increase in the number of foreign tourists by at least 500,000 and a twofold increase in the number of Ukrainians traveling outside their region are some of the criteria for the effectiveness of the Ministry of Culture, Youth and Sports, according to the government's program of activities through 2024.
"To do this, it is planned, first of all, to determine the place of Ukraine on the tourist map of the world, create brands from existing points of attraction and launch a program to promote them," says the document, which was published to the parliament's website.
Joining existing European tourist networks and cultural routes is also planned.
According to government estimates, successful implementation of the program will help increase the share of cultural, creative product, sports and tourism from 12% to 14% of GDP.
The Ministry of Economic Development, Trade and Agriculture in 2018 said the number of foreign tourists visiting Ukraine decreased by about 400,000 for the first time in three years, amounting to 14.2 million people. At the same time, in the previous two years it grew rapidly: in 2017 – by almost a million and in 2016 – by 1.2 million.
Despite a decrease in the total number of tourists in 2018, Ukraine's State Border Service recorded an increase in their number from countries that do not have common borders with Ukraine: from Spain – by 68%, Great Britain – by 47.3%, Lithuania – by 23.4%, Italy – 15.4%, Germany – 13.3%, France – 9.2%, and India – 57.4%, China – 38.8%, Japan – 38.3%, Israel – 21.7% and the United States – 19%.