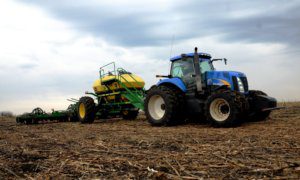 France's AgroGeneration Group with assets in Ukraine saw EUR 13.18 million of net loss in 2017, which is almost 15 times more than a year ago. According to a company report on its website, revenue fell by 10.1%, to EUR 54.2 million, gross profit decreased 30.9%, to EUR 16.03 million, and operating profit – by 92.9%, to EUR 0.84 million. Earnings before interest, taxes, depreciation and amortization (EBITDA) totaled EUR 9.1 million in 2017, which is 52.4% less than in 2016. Net debt grew by 14%, to EUR 45.44 million.
The share of exports sales grew to 57% in 2017 from 45% in 2016.
In 2017, AgroGeneration produced 359,200 tonnes of grain and oilseed (vs. 387,200 in 2016) over a sown area of 105,400 ha (versus 109,000 ha in 2016). The decrease in area is driven by the sale of a farm in Kharkiv region in 2017. The decline in production is mainly driven by the drought during summer 2017 that significantly affected sunflower and corn crops, although the group generally performed well above its peers.
The group plans to sow 106,000 hectares, out of which 48,000 have already been sown with winter crops. Under favorable weather conditions, the group started the fertilization for its spring crops with a reduction (versus last year) in corn and peas in favor of winter crops.
The 2018 crop season was secured thanks to the renewal of its season's financing with Alfa-Bank Ukraine for $35 million and a $10 million prepayment contract with Switzerland's Quadra Commodities.
AgroGeneration is furthermore implementing a comprehensive plan of cost savings. This includes a reduction of production costs and decrease in general and administrative costs for a total estimated amount of roughly EUR 4.2 million. In this context and with this cost savings plan having its full effect in 2018, the group aims to return to its recent years' EBITDA performance in 2018.
The French group AgroGeneration was founded in 2007. It grows grains and oilseeds. In Ukraine it currently processes about 120,000 hectares. In October 2013, AgroGeneration completed its merger with Ukrainian agricultural company Harmelia.