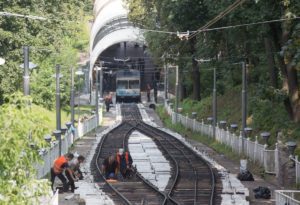 The Kyiv City Administration in 2019 plans to send over UAH 100 million of budget funds to renovation of Kyiv funicular with its adaptation to modern conditions of operation, the press service of the administration has reported.
"Kyiv City Administration resolution No. 464 approved the respective work project," the press service of the administration said, citing Deputy Chairman Dmytro Davtyan.
The project will be financed in accordance with the indicators of the Program of Economic and Social Development of Kyiv for 2018-2020 at the expense of budget funds. According to the explanatory note to the document, the total cost of the project is UAH 363.229 million.
The funicular is planned to be restored without changing its historical and legal status.
According to the press service, the ProExpo experts' reports were taken into account when developing the renovation project.
In addition, as reported, in the near future an international tender for the purchase of new funicular cabins and equipment for them using the loan from the European Investment Bank (EIB) will be announced.
Earlier it was reported that it is planned to spend EUR 6.5 million on two cabins of the funicular and the equipment.