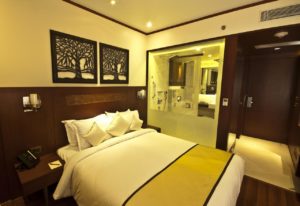 The new Ukrainian chain of futuristic capsule hotels Monotel plans to open its first facility near Besarabska Square in August, and two more in Zoloti Vorota (Golden Gate) and near the Kyiv's bike track – by the end of 2019, the press service of the operator has told Interfax-Ukraine.
"We are planning to open the first facility on Independence Day. It will be located at 9/28 Shevchenko Boulevard and will be designed for 28 people. It includes women's and men's bedrooms with 10 beds each and one bedroom for couples with four double capsules. The total area of the hotel is about 300-350 square meters," Marketing Partner of the Monotel project Ksenia Chigarkina said.
According to her, the investor and owner of the first hotel is the ideologist of the Monotel network, Hanna Osypenko (previously headed the Capitol Invest company). Since the chain is planning to develop a franchise, the second and third hotels will follow the model of the first Monotel hotel with the participation of other private investors.
"By October, we will open a hotel in Bohdan Khmelnytsky Street, and in November-December – near the Zoloti Vorota. The hotel in Khmelnytsky Street will have an expanded format. It will be a monotel and a monohub, where you can work and live 24/7. These will be two independent facilities that will create a unique product on the market in a pair," Chigarkina said, adding that the chain'ss plans include launching Monotel hotels in Lviv and Odesa, and also, possibly, abroad.
According to her, investments in the opening of the hotel total from $1,200 to $1,500 per square meter. Thus, the launch of one facility will cost about $400,000-500,000. Business owners expect to return the invested funds in two and a half or three years.