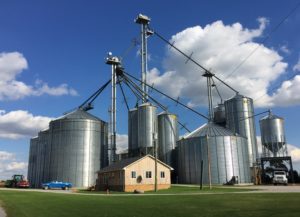 Astarta agricultural holding in July 2019 started accepting grain at Semenivsky elevator (Poltava region) with a capacity of 120,000 tonnes and investments of $19.2 million, the press service of the holding has said. According to the report, this elevator is the largest one in Astarta's structure. It is designed to accept grain from the agricultural holding's farms and from partners.
The construction of the elevator lasted nine months, it can ship over 54 wagons of grain per day. According to the company, Astarta has seven grain elevators in Poltava, Vinnytsia and Khmelnytsky regions with a total capacity of 550,000 tonnes of grain. As reported, in March 2019 Astarta bought an elevator in Khmelnytsky region for EUR4.6 million.
Astarta after three years of profitable work in 2018 received a net loss of EUR21.11 million. Its revenue decreased by 18.8%, to EUR372.22 million, EBITDA by 2.1 times, to EUR56.87 million.