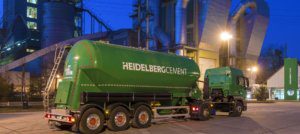 Public joint-stock company HeidelbergCement Ukraine (Dnipro), uniting Ukrainian cement plants of HeidelbergCement Group (Germany), plans to extend three credit lines for EUR 50 million until 2020. The company said that the shareholders in HeidelbergCement Ukraine at a general meeting on April 11 decided to permit the company to increase the credit line with ING Bank Ukraine to EUR 20 million and extend the contact on the credit line until July 1, 2020.
In addition, the shareholders approved the extension of two credit lines opened in 2015 until December 31, 2020 and signed with HeidelbergCement AG, EUR 15 each.
HeidelbergCement Ukraine was founded in 2002. It is engaged in production of cement and clinker. The main shareholder of the company with a share of 99.8308%, according to the National Securities and Stock Market Commission, is CBR Portland B.V., part of HeidelbergCement Group.
According to the annual report of HeidelbergCement Ukraine, at the beginning of this year its loan liabilities amounted to UAH 1.746 billion, in particular liabilities to ING Bank were represented by three loans with the term from a week to a month for a total of UAH 176.9 million.
Among other banks-creditors were UkrSibbank (UAH 161.5 million) and SEB Corporate Bank – UAH 200.4 million with similar financing terms, and the main liabilities were for a three-month loan from HeidelbergCement AG for UAH 1.2 billion, issued at 6.75% per annum.