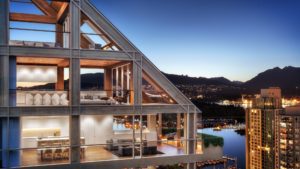 The updated state construction standards, which ban to arrange hotels, hostels and shops with a total area over 1,000 square meters in the new housing complexes, will come into force from January 1, 2020, a press service of Deputy Minister of Regional Development, Construction, Housing and Utilities Lev Partskhaladze has said.
According to a report, new state construction standards also ban to arrange in the housing complex specialized establishments and enterprises, operation of which can cause air or territory pollution; specialized stores of construction materials, lubricants and other goods (for example, paints, varnishes, flammable substances and materials); workshops for the repair of shoes and household appliances and appliances with an area of over 100 square meters: baths, saunas, production facilities, funeral homes and others.
At the same time, the document permits designing on any floors of the housing complex built-in and built-in attached public premises: shops, cafes, beauty salons, bank branches, etc. Previously, this was permitted only up to the third floor inclusively.
The norm applies exclusively to new construction of the residential buildings. In addition, a mandatory requirement for the placement of such a built-in institution is placing it in a separate fire compartment.
The exception is objects that negatively affect a person in terms of noise, vibration, electromagnetic radiation and radiation. For example, a cafe with a round-the-clock mode of operation, increased noise levels and so on.
BANS, CONSTRUCTION MINISTRY, HOSTELS, HOUSING COMPLEXES, SHOPS, SQUARE METERS