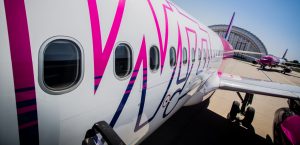 The Hungarian low cost airline Wizz Air rejects information from the European Transport Workers' Federation (ETF) about illegal layoffs of its employees in Ukraine, the airline's press service has told Interfax-Ukraine.
"Wizz Air has taken note of media reports alleging that a number of COVID-19 related layoffs in Ukraine earlier this year may have been allegedly illegal in Ukraine. Wizz Air denies such accusations as they are completely unfounded," the airline said.
The ETF previously reported that Head of Wizz Air Jozsef Varadi threatened to close the base in Kyiv if workers do not agree to terminate the work of the trade union. According to this organization, at the end of July, the low cost company fired four employees involved in the trade union, namely Yulia Batalina, Hanna Teremenko (the head and the deputy head of the trade union), Artem Tryhub (a member of the trade union council) and Andriy Chumakov (a member of the trade union).