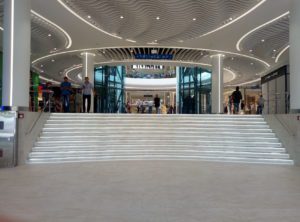 The Spanish retail operator Inditex Group will open seven new stores of the chain with a total area of 7,400 square meters in the River Mall trade center at 12 Dniprovska Embankment in Darnytsky district of Kyiv.
According to the press service of the shopping center, the new facilities include the country's largest two-storey Zara store with an area of 3,500 square meters, Zara Home (529 sq m), Massimo Dutti (678 sq m), Pull & Bear (798 sq m), Oysho (408 sq m), Bershka (932 sq m), and Stradivarius (557 sq m).
In general, by the end of 2018, Inditex Group had 65 stores in Ukraine, in particular, such brands as Pull & Bear (14), Zara (9), Zara Home (2), Massimo Dutti (6), Bershka (14), Stradivarius (12), Oysho (7), and Uterque (1).
As reported, Inditex plans to launch online sales of the Zara brand in Ukraine in the fall and winter of 2019.
According to the company's report, the pretax profit of Inditex in the country in 2018 amounted to EUR28 million.
Inditex Group was founded in 1963. It unites more than 7,000 stores in 91 countries under the brands Zara, Zara Home, Oysho, Massimo Dutti, Bershka, Pull & Bear, Stradivarius, and Uterque.
In Ukraine, Inditex Group has been represented since 2008. At the end of 2016, Inditex presented its first Uterque brand store in the Ukrainian market in the Gulliver trade center.