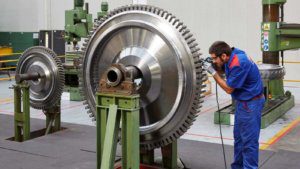 The volume of sold industrial products (goods, services) in January-May 2018 stood at UAH 1.015 trillion, which is 18.1% more than in January-May 2017, in particular the volume sold abroad was worth UAH 284.354 billion, the State Statistics Service has reported.
According to the agency, in May 2018 compared to May 2017 the index of turnover of sold production grew by 20.8%, and by 6.1% compared with April 2018. Sales in extractive industry in May 2018 compared with May 2017 grew by 18.2% (0.2% compared with April 2018) and in processing industry – by 21.4% (7.3%).
In the total volume of sales, the largest share accounted for processing industry (63.4%), the supply of electricity, gas, steam and air conditioning (21.3%), metallurgical production (18.9%), production of cast iron, steel and ferroalloys (14.5%), mining and quarrying (14.3%) and
As reported, in 2017 industrial products (goods, services) worth UAH 2.153 trillion were sold, which is 21.9% more than in 2016.