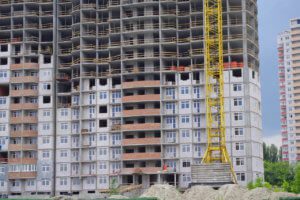 The Intergal-Bud construction company (Kyiv) plans to boost housing construction 1.5-fold in 2018, to 250,000 square meters, Commercial Director Hanna Layevska has said. "In total, we plan to introduce about 250,000 square meters of housing in 2018. In 2017, we actually commissioned 170,000 square meters. This year we plan to launch at least five new facilities, which are mainly located in the downtown areas and in the Holosiyivsky district of Kyiv. These are Vystavkovy residential complex, Lukyanivsky Cascade residential complex, and a few more facilities that are in the design and construction phase," she told Interfax-Ukraine.
According to Layevska, this year the company intends to finish the construction of Parkovi Ozera, Yaskravy, Otradny and Demiyivka residential complexes in Kyiv.
According to the commercial director of Intergal-Bud, prices for many properties in the first five months of 2018 grew by 10-12% in U.S. dollars. According to her, in the first half-year of 2018, purchases of apartments with 100% payment decreased and the share of installments and lending contracts increased.
At the same time, despite the price increase, the company's sales pace in 2018 increased by more than one third compared to 2017, Layevska said. According to the commercial director, a major challenge for developers in 2018 is a lack of general contractors.
Intergal-Bud construction company LLC was founded in 2006. It is subsidiary of Lviv subsidiary established in 2003.