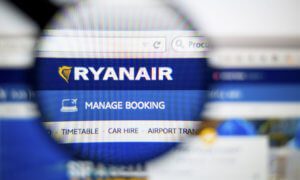 Ryanair, the largest European low cost air carrier, is considering the possibility of establishing a company in Ukraine to create IT products, Yulia Kovaliv, the head of the National Investment Council's office, said on the air of Radio NV. "One of the ideas we discussed with the Ryanair leadership is to establish an internal company in Ukraine, which develops all IT products for the low cost carrier," she said. Kovaliv also noted that in the near future the company plans to start domestic flights in Ukraine.
"If we are talking about the launch of domestic flights by the carrier in the country, then, again, the level of airport charges is important, but all companies understand that the cheaper the ticket is, the faster the airline will become competitive," she said.
As reported, Ryanair began flights to Ukraine on the route Berlin-Kyiv-Berlin from September 3. Ryanair offers flights from Kyiv to six cities in Poland, one destination in Germany, Spain, Lithuania, Slovakia, the UK and Sweden, as well as two destinations from Lviv to Germany and Poland, one to the UK. Ryanair (Ireland) is the largest low cost airline in Europe.