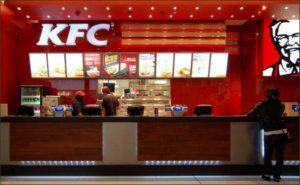 LLC Tasty Food, a partner of Yum! Brands (KFC), will open the 15th KFC restaurant in Ukraine on August 23, the company's press service has reported. This restaurant will be the fifth for LLC Tasty Food, which has already opened three restaurants of the chain in Dnipro and one in Kyiv. The new restaurant will open in the premises at 26 Lesia Ukrainka Boulevard in Kyiv's Pechersk area, which were earlier occupied by a McDonald's restaurant. The latter closed in April due to the expiration of the rental period and a new rental rate deemed by the company as unprofitable.
The new KFC restaurant is designed for 150 seats, its area is 398 square meters, the company's press service said. "The restaurant's menu includes all the main KFC dishes from snacks and sandwiches to buckets and desserts. The restaurant will be open from 06.00 to 23:45 local time," it said.
Four self-service kiosks will be installed in the restaurant to speed up the process of servicing due to the zone for receiving orders and a separate zone for order picking in keeping with the concept of fusion. "LLC Tasty Food is planning to open several more KFC restaurants within two years. The company is now actively recruiting employees who will be trained according to international food quality and food service standards adopted by KFC," the company said.
KFC is an international brand of fast food restaurants, represented in more than 130 countries. The network includes more than 21,000 restaurants. The company employs over 300,000 employees. The first restaurant of the KFC chain in Ukraine opened in Kyiv late in 2012. As of August 2018, the chain in Ukraine numbered 14 restaurants.