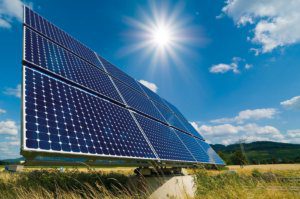 The Kness Group, a large Engineering, Procurement, Construction (EPC) contractor on the Ukrainian alternative energy market, this year started building own solar power plants and soon intends to launch the capacity of 33 MW, Kness Director General Serhiy Shakalov has said. "To a large extent, we started building our own capacities only this year. Now we are commissioning 33 MW. These are our capacities," he told Interfax-Ukraine. Shakalov said that the group mainly acts as an EPC contractor in projects, building solar power plants for clients according to different financial models.
He said that Kness has already implemented projects with a total capacity of more than 200 MW. "And now about 200 MW are being built, and the plans are great," the general director said.
Speaking at the Ukrainian Financial Forum organized by the ICU investment group recently, he pointed out the high interest of investors in solar power plants for the period before the introduction of auctions.
"Why interest? Because the business is clear, simple and fairly well insured: almost a state guarantee in the form of state purchases of electricity. Plus a very low OPEX," Shakalov said.
According to him, Kness (at that time, Podilsky Energoconsulting) first started building alternative energy facilities, and at the beginning of 2016 it almost completely focused on solar energy and "did not miscalculate."
Shakalov said that even with the introduction of auctions expected after 2020, the construction of a solar power plant still remains interesting, since there is more money, technology and construction companies on the market than it was before. Among the problems he highlighted a lack of quality facilities and qualified personnel, which does not allow scaling projects.
"We are not afraid of the auction system. We are actively preparing for them (auctions). We are looking positively in 2020," the general director of Kness said. In his opinion, the introduction of the auction system will create another competitive field in which other financial models will compete, although there is no clear understanding yet. Shakalov also said that it will have to compete more with large international companies, and also more actively develop new regions, since the density of implemented projects in Kherson and Odesa regions is already high.