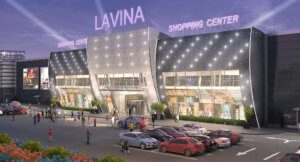 Lavina Mall LLC (Kyiv), the owner of Lavina Mall in Kyiv, posted UAH 119.9 million of net profit in January-March 2018 compared with net loss of UAH 114 million year-over-year.
According to a financial report of the company in the information disclosure system of the National Commission for Securities and the Stock Market, net revenue grew 2.6-fold, to UAH 154.9 million.
Gross profit soared 11-fold, reaching UAH 98.4 million, and operating profit – 19-fold, to UAH 154.9 million.
Uncovered loss in Q1 2018 fell by 34%, to UAH 229 million.
Total bills receivable over the period rose by 6.8%, to UAH 546.8 million.
Non-current liabilities increased 5%, to UAH 1.72 billion, and current liabilities decreased 18%, to UAH 820 million.
Lavina Mall was opened early December 2016.
Megaline LLC (Kyiv) was the developer of the mall.
Lavina Mall LLC was founded in 2013. Its core business is leasing and operation of own and leased property.
According to the unified public register of companies, the only participant of Lavina Mall LLC as of April 2018 was Iksoria Business Limited (Nicosia, Cyprus). The ultimate beneficiary is Toms Per Andres (Sweden), while as of Q3 2017 Vagif Aliyev was the ultimate beneficiary.