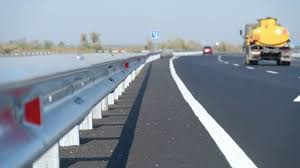 Тhe State Agency of Automobile Roads of Ukraine (Ukravtodor) intends to completely renew the M-05 Kyiv-Odesa highway in 2020-2021.
Ukravtodor said on its Facebook page that it is also planned to equip roadside infrastructure, recreation areas, establish Weigh-in-Motion sites, as well as other security measures on the highway.
"The repaired 25 km of the road (in Kyiv and Cherkasy regions) brought us closer to the goal for 2021 – to carry out the overhaul of the M-05 road over the entire length. For this, we are already designing sections in three areas. In the near future, we are waiting for work to begin on 40 km of the road in Kyiv region, this is the last non-ideal road section in the region … Another important point is the interchanges that will begin to be built this year. One will be near Vita-Poshtova, the other in Chabany. Strategically we plan to completely abandon left turns on the tracks of international importance," Head of Ukravtodor Oleksandr Kubrakov said.
The agency also notes that it plans to launch long-term maintenance contracts for the M-05 highway. They can be concluded for a period of up to seven years, while now one- or two-year contracts are most common. To date, Ukraine has only one long-term contract for road maintenance in Lviv region, as part of a pilot in the EBRD and EIB project.
The total length of the M-05 highway is 504.6 km.