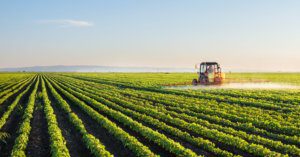 The Agricultural policy and Food Ministry of Ukraine foresees in its farmland market concept that only Ukrainian citizens would be able to buy farmland.
According to a report on the ministry's website, the basic provisions of the concept also set the maximum size of farmland, which can be owned by one person and anti-speculative mechanisms (the collection of a state duty) in case of resale of a land parcel within the first three years.
The document provides that current users are guaranteed the preservation of the land bank in case of a change of the owner of the land.
The concept introduces price benchmarks for land parcels during the first two years after the cancellation of the moratorium at a level no lower than the monetary valuation cost. Prices of all purchase/sale transactions for which property rights are registered are subject to state registration, which will allow the National Bank to regulate the mortgage market.
The document creates preferential conditions for the purchase of land by small players, primarily by farms, in particular through a mechanism for partial loan guarantees.