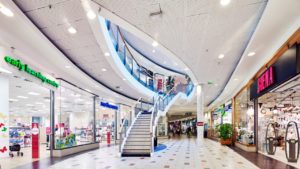 UTG consulting company (Kyiv), together with partner developer DC Evolution (London), plans to implement the project of an Alfa Mall multifunctional complex with a total area of 105,000 square meters with five residential buildings and a shopping and entertainment center by late 2022.
"In this project, UTG in partnership with the owners of DC Evolution for the first time will act not just as a broker, but as a co-investor and management company. This is our personal project in Dnipro, we are conducting its full cycle," UTG Director Yevhenia Loktionova said during Retail & Development Business Expo 2019, held in Kyiv at the end of last week.
She told Interfax-Ukraine investments in the project will be more than $100 million, project participants intend to use their own and credit funds.
The Alfa Mall multifunctional complex is to be built at 25 Zaporizke Shose Street. The total project area will be 105,000 square meters, the rental area is 52,000 square meters. The plan is to be implemented in two stages. The start of construction is scheduled for 2020, completion for the end of 2022.
UTG (Kyiv) was established in 2001. It specializes in comprehensive support of development projects.