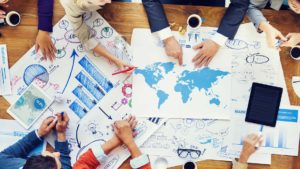 Ukrainian businesses predict further economic growth and the creation of new jobs in 2019 for the second year in a row, according to a survey of company heads conducted by the National Bank of Ukraine (NBU) in the fourth quarter of 2018. According to the website of the central bank, the growth of business activity is expected at enterprises of all types of economic activity, while the most optimistic enterprises are in the processing industry.
In the regional context, optimistic moods are preserved by companies from all regions, except for Kirovohrad. Enterprises from Ternopil and Lviv regions have the highest expectations.
"Expectations of high growth rates of economic activity are based primarily on the forecast of an increase in the total volume of sales of own produce, as well as investment spending on machinery and equipment," the report said.
According to the National Bank, one-third of respondents expect that production will grow, and every second company believes that it will at least remain at the current level. The growth of the total sales of products and the improvement of the financial and economic state is predicted by respondents of all types of economic activity, except for enterprises of power and water supply sectors. Trade and processing enterprises have the highest expectations.