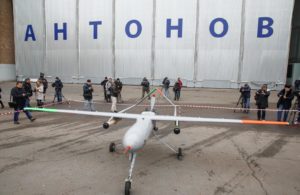 Kyiv-based Antonov State Enterprise, a leading Ukrainian designer and manufacturer of aircraft, will showcase its new projects at the 12th international Aero India Show 2019, which will be held in Bangalore, India, on February 20-24.
The An-132D lightweight multi-purpose aircraft will be shown at the static parking lot and in demonstration flights at the air show; it will become one of the new aircraft of the air show, the enterprise said on Facebook on Tuesday.
The new plant, which was developed on the basis of the An-32, a well-known transport plane in India, boasts a weight-lifting ability of 9.2 tonnes, and in future may be an effective replacement for the famous "Silver Horse" [An-32] in the Air Force of India. "Also, Antonov State Enterprise is ready to continue the program of cooperation with India for extending the resource of the existing An-32 fleet from 40 to 50 years," the company said.
As part of India's national programs to provide regional passenger airports and passenger transportation, Antonov will present the Regional Wings project, based on proposals for the use of An-148/158 passenger aircraft. They can work effectively in the climatic and landscape conditions of the region.
The new projects that will be presented at the air show also include a program for the creation of the An-188 military transport aircraft for short take-off and landing, the company said.
The presentation of the An-132D multi-purpose aircraft at Aero India Show 2019 is planned jointly with the Saudi partners in the project – King Abdulaziz City for Science and Technology (KACST) and TAQNIA Aeronautics Co. Currently, the partners are negotiating the development of the project and the conclusion of a contract for the finalization of the An-132D to the serial sample, Antonov told Interfax-Ukraine.
Antonov State Enterprise is the leading Ukrainian developer and manufacturer of aircraft, the world's recognized leader in the niche of transport aircraft. By decision of the Ukrainian government, Antonov in 2015 became part of state-run Ukroboronprom Concern.
India is among the long-standing and promising partners of Ukraine, as the parties have been cooperating in the field of aircraft manufacturing and repair services for 20 years. In 2009, the parties concluded one of the largest contracts in the field of bilateral military-technical cooperation in the amount of about $400 million for the repair and retrofitting of 105 An-32 aircraft of the Indian Air Force.
AERO INDIA SHOW, AIRCRAFT MANUFACTURER, ANTONOV, NEW PROJECTS