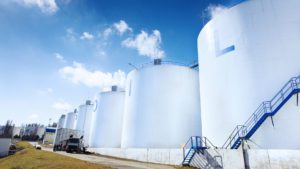 Risoil S.A. plans to install eight new silos at the grain terminal Risoil Terminal in Chornomorsk port and increase the capacity of storage by 105,000 tonnes, to 257,000 tonnes on average (depending on the crops). "This month, the installation of eight new silos begins. The volume of storage will be 105,000 tonnes more. The supplier of silos is AGI, the leading global manufacturer of equipment. It is planned to compete the installation work by the end of 2019," the group said on Facebook.
Risoil S.A. was established in Geneva (Switzerland) in 2000. Its core business is logistics of oil, bulk and general cargo in the ports of the Black Sea, the sale and production of vegetable oils, trade in grains and oilseeds in containers, storage and processing of agro-industrial products.
The grain terminal Risoil Terminal in Chornomorsk port was put into operation in 2016.
CHORNOMORSK PORT, GRAIN TERMINAL, NEW SILOS, RISOIL, VEGETABLE OIL