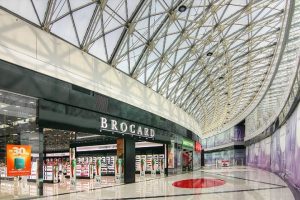 Brocard-Ukraine LLC, a large operator of the perfumery and cosmetic market of Ukraine, plans to maintain its plan for opening new outlets in 2020, but does not rule out the possibility of leaving shopping centers with which it will not be possible to agree on rental conditions. "We plan to fulfill all our obligations: we will open new stores according to preliminary agreements. All planned openings of the year will take place where it depends on us, and not on the physical unreadiness of the mall. There will be a total of four new stores, including Blockbuster and Retroville in Kyiv," Yuriy Gatkin, the co-founder and manager of Brocard-Ukraine, told Interfax-Ukraine.
At the same time, he added that the company optimizes costs as much as possible: "the budget for the fiscal year 2020-2021 will be very careful."
According to him, the overall growth in the company's turnover in 2019 amounted to about 10%, reaching UAH 4.25 billion, mainly due to the opening of new stores.
Last year, in particular, the company opened ten new and reconstructed stores under the Brocard, Brocard Niche Bar and Kiehl's brands in Kharkiv, Kyiv, Lviv, Kramatorsk, and Odesa.
As of June 2020, Brocard-Ukraine LLC operates 97 perfumery and cosmetics stores in 26 cities of Ukraine under the brands Brocard, Brocard Niche Bar, Kiehl's, M.A.C.