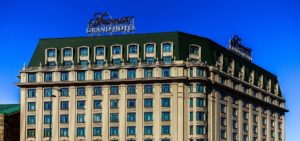 Everything you would expect and more from one of the best new year`s eve parties in fairmont grand hotel Кyiv.New Year's Eve Countdown Party at Fairmont Grand Hotel Kyiv will definitely be the highlight of your year! Don't miss the chance to bring in the new year in Kyiv's most beautiful hotel. The night that will certainly become the best start of the year. We will dance, sing, make those cherished wishes, while the clock strikes midnight. And believe us all of those wishes will come true!ANATOLIY ANATOLICH will host the night away.
The atmosphere this evening create:
JAMALA — the winner of Eurovision Song Contest, the coach of "The Voice" (Ukraine) project.
LAUD — the breakthrough of the show "The Voice" (Ukraine), season 6, a singer that possess a rich timbre that fascinates millions, the most stylish voice of Ukrainian show business, the finalist of National selection of Eurovision song contest.
The night then continues as you dance away to lively beats courtesy of our DJ BOLOTIN.
A LIMITED NUMBER OF TICKETS ARE AVAILABLE, BOOK NOW!
MORE INFORMATION: +38 067 444 80 90
And what celebration can be without gifts? Tour operator "Alterego Travel", our partner, will give away a VIP getaway weekend for two and lots more of different surprises from Fairmont Grand Hotel Kyiv, Elixir SPA Deluxe, VOGUE Café Kyiv, library-confectionary SWEET BOOK.