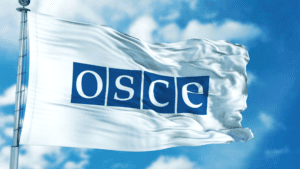 The crisis in Ukraine and around Ukraine is the key problem of security on the European continent, OSCE Chairperson-in-Office and Slovakia's Foreign Minister Miroslav Lajčák said in an interview for the Faces of Peace project.
"The number of casualties we have seen in eastern Ukraine in the past five years is higher than anything we have seen elsewhere in Europe this century," he said.
Lajčák said the OSCE's Special Monitoring Mission (SMM), which is made up of more than 1,300 members, has done extremely important work since it was deployed in Ukraine during the spring of 2014.
"Our monitors are in the field observing and reporting on ceasefire violations, monitoring the latest developments and the hardship faced by people," he said.
Lajčák evaluated the current situation in eastern Ukraine, noting that the ceasefire agreement starting on July 21, 2019, was a positive development leading to a significant decrease in the number of casualties among the civilian population and ceasefire violations.
"Nevertheless, unfortunately recently (As at October 11, 2019) there were days when there were more ceasefire violations than before recommitment," he said.
Lajčák focused attention on the fact that "positive dynamics between Russia and Ukraine led to the exchange of prisoners" and noted important steps in taken under the aegis of the Trilateral Contact Group on regulating the situation in Donbas, where the sides agreed to the process of withdrawing forces and the so-called Steinmeier Formula. He also noted repair work done to help people crossing the bridge in Stanytsia Luhanska.
Lajčák expressed the hope that there would soon be a summit of Normandy Four leaders (Ukraine, Germany, France and Russia).
"There have been very good discussions within the Normandy Format that will, I hope, lead to a long-awaited Summit of the Normandy Four leaders," he said.
Slovakia has had the rotating chairmanship of the OSCE since January 1, 2019, when Lajčák became Chairperson-in-Office. Ukrainian Foreign Minister Vadym Prystaiko has invited him to jointly visit Stanytsia Luhanska and inspect infrastructure repairs there.