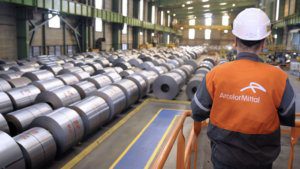 PJSC ArcelorMittal Kryvyi Rih (Dnipropetrovsk region) after a radical modernization by 2025 will become a modern European enterprise, Director General Paramjit Kahlon told the employees of the plant on occasion of the 84th anniversary of its establishment. "I am sure that by 2025 we will have a modern European plant in accordance with all European standards, with minimal emissions of pollutants, with a very high level of productivity, with very low production costs and with the generations, who will then link their lives with metallurgy and this enterprise," the top manager said.
At the same time, he stressed that the company is not standing still, is developing, and this gives hope for its future. "Once this modernization is completed, we will work in a new way," the head of the enterprise is convinced, urging everyone to be participants in these changes and become architects of the success story that the administration is trying to create. According to Kahlon, ArcelorMittal Kryvyi Rih has three main goals: the first one is the modernization of the enterprise, still with an emphasis on ecology and environmental protection. The second one is the development of personnel and training new generations, the third one is partnership with the public.
The head of the company in December 2017 reported that ArcelorMittal Kryvyi Rih intended to invest $250 million annually in the renewal of production until 2025.