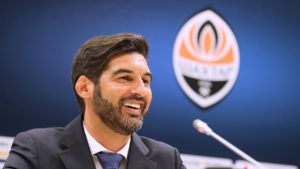 FC Shakhtar Donetsk has announced that Portuguese coach Paulo Fonseca left the Ukrainian club. "FC Shakhtar thanks Paulo Fonseca and his coaching staff for their excellent work. We wish them every success in their further career, more outstanding achievements, and great victories!" a report posted on the club's website reads.
Italy's Roma, in turn, reported on its website that Fonseca had been appointed the club's head coach.
After taking the helm at Shakhtar on June 1, 2016, over three years Paulo has become one of the most successful coaches in the club's history. With the team, he claimed three golden doubles and brought the absolute leadership in Ukrainian football back to Shakhtar. Over the years, the Orange-and-Blacks won three league titles, raised three Ukrainian Cups and secured a Ukrainian Super Cup.
In total, under the leadership of Fonseca, the team had 139 games, winning 103 of them.