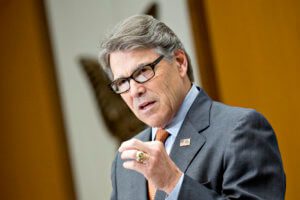 Ukraine has large resource potential and can become European Texas, U.S. Energy Secretary has said. Perry made the remarks during a meeting with representatives of the American Chamber of Commerce in Ukraine and the U.S.-Ukraine Business Council.
"Ukraine is unique in the sense of where it finds itself in the world at this particular point in time. Not only can they be a major supplier from the standpoint of bringing LNG in through Poland in particular, and then supplying Europe from there. But the potential for exploration and production in Ukraine – this is quite a statement from me, but Ukraine would be the Texas of Europe. The formations that are here — the potential for the development of those is, I think it's staggering. I remind people that a decade ago, they told us that we had found all the fuel — the fossil fuels — in the world. They called it peak oil, remember? The guy traveled the country giving a speech about peak oil. And those resources were always there. But innovation and technology allowed us to be able to access them. And today the United States is the number-one oil and gas producing country in the world. And that's a stunning turnaround," said Perry, who was Texas Governor from 2000 to 2015.
The U.S. Energy Secretary added that many U.S. companies are interested in cooperation with Ukraine.