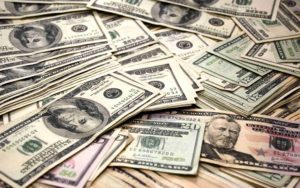 Income of Ukrainian President Petro Poroshenko in 2017 totaled UAH 16.304 million. According to the declaration of the candidate for the post of President of Ukraine for 2017, which he entered in the unified register of declarations, UAH 336,000 of income of Poroshenko was the salary corresponding to the position occupied, UAH 15.796 million of interest on deposits in his International Investment Bank (IIB), and he received UAH 172,000 of income from the sale of movable property.
On accounts in his IIB bank, Poroshenko keeps $25.49 million, another UAH 8.19 million are in PJSC Prime Assets Capital, uniting many of his assets. He keeps cash in the amount of $21,000 and UAH 60,000. The president also lent $3.43 million and UAH 1.111 million to third parties.
In 2017, the president placed $10,777 to an account with Rothschild Bank AG (Switzerland), owned by Rothschild Trust Schweiz AG (Switzerland).
In 2017, Poroshenko spent more than UAH 3.8 million on education, UAH 7.549 million on transport services, UAH 2.736 million on tourist services in Ukraine, UAH 5.472 million on accommodation services in Ukraine, UAH 813,500 on utility bills, UAH 90,800 on investment management services or consultations, and another UAH 95,476 on hospitality and logistic arrangements of the delegation in Belgium.
In 2017, Poroshenko did not receive dividends from more than 100 enterprises and legal entities, which ultimate beneficial owner (controller) he is.
Among them PJSC closed-end non-diversified corporate investment fund Prime Assets Capital, which unites many assets of the incumbent president.
In 2017, Poroshenko remained the ultimate beneficiary of PrJSC Roshen Kyiv confectionery factory, and its subsidiaries, Central European confectionery company LLC, the subsidiary Roshen confectionery corporation, a private limited liability company Roshen Europe B.V. (the Netherlands), PJSC Vinnytsia Confectionery Factory, PJSC Vinnitsa Dairy Plant Roshen, PrJSC Kremenchuk Confectionery Factory Roshen, PJSC Mariupol Confectionery Factory Roshen, Roshen Biscuit Complex LLC (Boryspil).