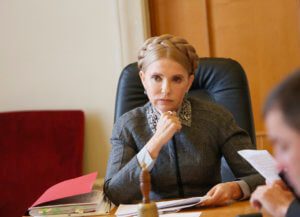 Some 13.4% of Ukrainians are ready to vote for leader of the All-Ukrainian Batkivschyna Party Yulia Tymoshenko, 7.6% for showman Volodymyr Zelensky, incumbent President and Civic Position Party heads Petro Poroshenko and Anatoliy Hrytsenko, respectively – 7%, and Opposition Bloc Party head Yuriy Boiko – 6.9%.
These are the results of the joint survey conducted by Social Monitoring, the Yaremko Ukrainian Institute of Social Research, Kyiv International Institute of Sociology and the Rating sociological group.
Poll results show 18.9% are ready to support Tymoshenko, Zelensky – 10.7%, Hrytsenko and Zelensky – 9.9% and Boiko – 8%.
Some 75.8% of respondents said that they definitely intended to vote in the presidential elections in Ukraine or were likely to go to the polls, while 19.5% said they would not vote for sure or were inclined not to participate. Some 13,684 respondents were interviewed. The survey was conducted from September 28 to October 16, 2018 throughout Ukraine, with the exception of the Autonomous Republic of Crimea and occupied territories of Donetsk and Luhansk regions. The margin of error does not exceed 0.85%.