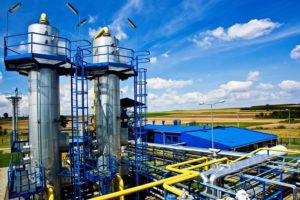 Shebelynka gas processing plant in Kharkiv region in January-June 2019 increased processing of crude oil by 7.6% (17,400 tonnes), compared to the same period in 2018, to 246,900 tonnes.
The Ministry of Energy and Coal Industry told Interfax-Ukraine that in June 2019 processing at the plant amounted to 40,300 tonnes, which is 6.1% (2,600 tonnes) more than in the same month last year.
For the six months, the plant increased production of petrol by 37.3% (by 21,800 tonnes), to 80,300 tonnes, fuel oil by 5.4% (by 2,300 tonnes), to 45,200 tonnes, but reduced diesel fuel by 27.2% (by 3,700 tonnes), to 17,300 tonnes.
The loading of the plant's capacity through the aforementioned period of 2019 was 49.4% against 45.9% in 2018.
Ukrgazvydobuvannia, 100% owned by Naftogaz Ukrainy, is Ukraine's largest gas producer, which provides about 75% of the total gas output in the country.
Ukrgazvydobuvannia operates Shebelynka gas refinery, Yablunivske department to process gas, Bazylivschyna condensate stabilization unit, and 19 filling stations in Kharkiv region. The latter sells fuel and liquefied gas of its own production.