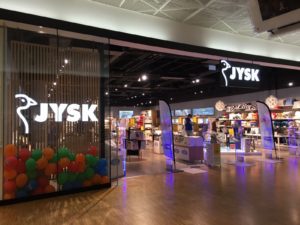 JYSK Ukraine LLC (Kyiv), developing the furniture and home goods store chain in Ukraine of the JYSK Group (Denmark), on March 7, 2019 opened six stores in Zhytomyr, Dnipro, Kherson, Odesa and Kyiv after their restyling and plans to launch the XL format store in Kyiv's Retroville shopping and entertainment center.
"We have a standard store format of 1,000 square meters of retail space and 200 square meters of warehouse space. We also have a city format of 500 square meters. It works in other markets, but we do not bring it in Ukraine yet, since we have enough space for the development of the main format. And we have XL format of about 2,000 square meters. It allows us to expose furniture, including from the online assortment, which we cannot put in the usual format. In the Retroville shopping and entertainment center, we plan to open the XL format," Executive Director of JYSK in Ukraine Yevhen Ivanitsa told at a press conference in Kyiv.
According to him, the company has completely updated the JYSK stores in the Ukraine Department Store shopping mall in Kyiv and the Fontan Sky center in Odesa in accordance with the new concept 3.0. The retail area of the stores will be the same: 903 square meters and 982 square meters respectively, while the interior design is completely changed.
In addition, the retailer overhauled four stores: the Poliarny shopping center (Kyiv), the Global.UA shopping center (Zhytomyr), in Sicheslavska Naberezhna Street (Dnipro), and SEC Factory (Kherson).
"We are planning to open the next store in Kamianets-Podilsky, as we continue to go to the regions. We are opening the second store in Chernihiv, a store in the Dream Town shopping center in May. It will be the 50th store in Ukraine. We also have a lease agreement with Kyiv shopping centers Retroville and Novus (on Zdolbunivska Street)," Ivanitsa said.
At the same time, he said that the share of online sales of JYSK in Ukraine, including the order online and pick up service, is more than 10%.
In general, the company intends to maintain the pace of opening stores in Ukraine and launch 12 new facilities this fiscal year, and in four fiscal years to increase the network to 100 stores.