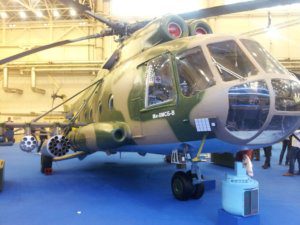 The government of Ukraine has approved the strategy for the revival of the national aircraft industry for the period until 2022.
The relevant draft resolution of the Cabinet of Ministers, developed by the Ministry of Economic Development and Trade, was adopted at a government meeting on May 9 without discussion. The Ministry of Finance was instructed to finalize the document within three days.
According to the draft document available to Interfax-Ukraine, the main activities of the strategy include expanding opportunities for the industry's participation in public-private partnership projects through amending the list of state property objects that can be transferred to concession, approved by the Cabinet in 1999; improving the procedure for obtaining by aviation industry enterprises of licensing documents in the field of export control; cheapening of loans of Ukrainian banks for the development of new aircraft models; certification of aircraft engines of Ukrainian production in the EU; carrying out work on substitution of Russian components import; the development and approval of the concept of the state targeted scientific and technical program for the development of the aviation industry for 2018-2022, as well as the state program itself.
Among the main measures of the strategy are also the reorganization of state enterprise Antonov into Antonov holding company; organization of modernization and production of Mi-2MSB and Mi-8MSB helicopters for the needs of the army and law enforcement agencies, as well as for exports; the creation and organization of a multipurpose light helicopter with a take-off mass of 4-5 tonnes within the framework of Korolek MSB-2; the organization of production of a helicopter with a take-off weight of 7-8 tonnes; the organization of production of blades and helicopter gearboxes for the Mi family helicopters.