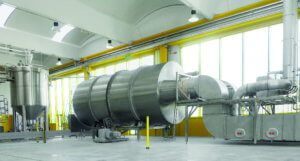 Schulz (Kyiv) plans in 2018 to increase the number of completed projects to produce equipment for breweries by 30%, to 48.
"In 2017, the company produced 76% more equipment than in 2016. A total of 37 implemented projects in 2017 compared with 21 projects in 2016. This year we plan to retain the upward pace and reaching 30% and more rise in production compared with the previous year," the founder of Schulz Bakhrom Kalandarov told Interfax-Ukraine.
He said that today 60% of the company's products are exported. It is sold in Russia, in the CIS, EU, Asia (Vietnam) and North America (Canada).
The founder of Schulz said that this year the company brought to market a new brand of brewing equipment – SimpleBrew.
"A team of Czech engineers and leading Schulz experts worked on its design for more than three years, which made it possible to make the best product for the European market. In Simple Brew we developed standard solutions for 500 and 1,000 liters of cookers, so we made it more attractive for the price and quality, simplifying the service. We have also passed certification for equipment in accordance with European standards," Kalandarov said.
He said that the share of Schulz of the Ukrainian brewing equipment market is 60%.
Schulz is engaged in the production of brewing equipment ranging from mini versions per 100 liters and to industrial designs for 5,000 liters, working on individual solutions for brewers. In addition to manufacturing breweries, the company produces auxiliary brewing equipment.
The main office and production facilities of Schulz are located in Kyiv. Representative offices are in Krakow, Prague and Moscow. Production facilities of the enterprise allow producing more than 50 sets of breweries per year. Since the company was founded in 2002, it has implemented more than 150 projects in 13 countries.