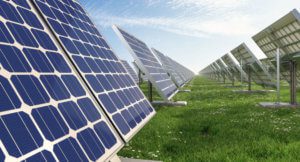 China's Jiangsu Seraphim Solar System has won a tender to supply solar cell arrays with a total capacity of 246 MW for construction of a solar power plant by DTEK in Dnipropetrovsk region, the press service of the Chinese company has reported.
The Engineering, Procurement, Construction (EPC) contractor under the project is China Machinery Engineering Corporation.
Earlier, DTEK CEO Maksym Tymchenko estimated the cost of the project at EUR 230 million. According to him, the construction of the plant is planned to be completed before the end of this year and from March 2019 the company seeks to start transmission of power in Ukraine's power grid.
To ensure the connection of the solar power plant in Nikopol (Solar-1 LLC), national energy company Ukrenergo plans to reconstruct the open-type 150 kV switchgear of 330 kV Nikopol substation, with an expected tender price of up to UAH 20.833 million.
As reported, in 2017, DTEK launched its first Tryfonivka solar power plant with a capacity of 10 MW in Kherson region.