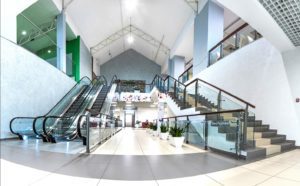 Shuvar LLC (Lviv), the operator of the eponymous agricultural market, plans to start building second phase of the regional agricultural center with a total area of 26,000 square meters in 2020 sticking to the implementation of a development concept.
According to a posting on the website of the company, the market announced an architecture tender to select the best project for second phase. Architectural shops MarekArciszewski, MAManagement (Warsaw, Poland), Artik Design Bureau LLC (Lviv) and A-III Dmytro Antoniuk LLC (Kyiv) presented their projects.
The projected building will be three-story and includes, in addition to pavilions with different types of agricultural products, a retail gallery with recreation areas and craft products, a food hall with 5-10 restaurants of various cuisines and a single food hall.
The facility will be located on a plot of 20 hectares.
Shuvar LLC was created in 1991.
The participants of the limited liability company, according to the National Commission for Securities and the Stock Market, as of early 2018 were Roman Fedishyn (50.5%), Andriy Chipchar (27%), Liubov Doskoch (9.8%), Liubov Bokalo (9.6%), Natalia Fedishyn (2 , 5%), as well as Shuvar LLC (0.4%). The ultimate beneficiary is Roman Fedishyn.