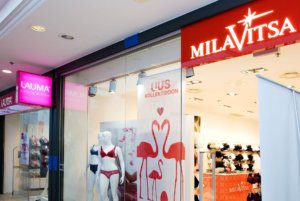 AS Silvano Fashion Group (SFG, Tallinn), engaged in sewing and selling women's underwear under the trademarks Milavitsa, Alisee, Lauma and Laumelle, in January-June 2018 increased sales in Ukraine by 18% compared to the first half of 2017, to UAH 52.22 million. According to a company report on the Warsaw Stock Exchange, due to the strengthening of the euro to U.S. dollar exchange rate, its Ukrainian revenue in euros increased by 9.5%, to EUR 1.67 million.
According to the report, the network of franchise stores of the company in Ukraine for the reporting period expanded by more than 1.5 times, from 50 to 76 points.
In 2017, SFG reported about the growth of sales in Ukraine by 58.8%, to UAH 75.2 million, and in the euros by 52.5%, to EUR 2.53 million. In the first quarter of 2018, the growth in sales in the hryvnia amounted to 26.3%, to UAH 25.54 million, in euros by 9%, to EUR7 60,000.
Ukraine's share in total revenue for the first half of the year increased to 5% from 4.7% in the first quarter, 4.1% in the past year and 2.9% in 2016.
In general, the revenue of SFG for the period rose by 2.2%, to EUR 33.53 million, EBITDA by 45.9%, to EUR 11.81 million, and net profit by 47.6%, to EUR 8.42 million.
The production facilities of the group unite Milavitsa factory in Minsk (Belarus) and Lauma Lingerie factory (Latvia).