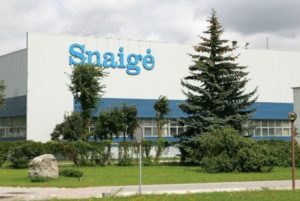 Lithuania's Snaige, the sole manufacturer of household refrigerators and freezers in the Baltic states, saw a 16.7% rise in revenue in Ukraine in January-September 2019 year-over-year, to EUR 5.38 million. According to the published annual statements of the company, the loss of Snaige in Ukraine for this period amounted to EUR 3,000.
In total, Snaige's total revenue for the first nine months of this year amounted to EUR 25.96 million compared to EUR 26.98 for the same period last year. The largest sales were in Western Europe totaling EUR 10.22 million (EUR 10.73 million last year).
In Ukraine, in 2018, Snaige posted a EUR 3,000 loss, while in 2017 net profit was EUR 1,000, revenue decreased 20.8%, to EUR 6.01 million.
Founded in 1963, Snaige is currently controlled by Polair, a Russian manufacturer of refrigeration equipment. Its production capacity is 550,000 refrigerators and freezers per year.
Snaige-Ukraine LLC was established in 2002.