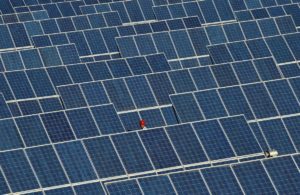 PJSC Zaporizhiaoblenergo by September 2019 will reconstruct the 150/35/10 kV Likarniana substation due to the connection of a Solen Energy LLC solar power station in Zaporizhia.
The announcement of the signing of a relevant agreement with Assembly and Construction Company Synergy LLC on March 14 was published in the ProZorro system.
Development and Construction LLC also participated in the auction.
In May 2018, Zaporizhia City Council allocated 36 hectares for Solen Energy LLC on the Orikhivska highway.
According to Solen Energy's website, the station's capacity is 19.9 MW, the construction contractor is SIS LLC. The station has Risen and Longi modules with a capacity of 345 W and 365 W each, as well as ABB inverters with a power of 120 kW. In February, open hearings on providing feed-in tariffs to the station were held in Zaporizhia.
RECONSTRUCT, SOLAR PLANT, SOLEN ENERGY, SUBSTATION, ZAPORIZHIAOBLENERGO