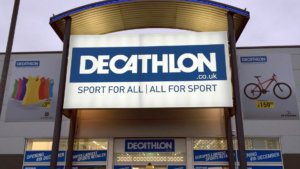 The French sportswear brand Decathlon, part of the international Auchan Group, is to launch an online store in Ukraine in the spring of 2019 simultaneously with its first physical retail outlet, and announces plans to expand production in the country. "In six months, in the spring of 2019, we will open our first store in the north of Kyiv – in Retail Park Petrivka. Simultaneously, we will open an online store," CEO of Decathlon Ukraine Florent Guieu said at a press conference on Tuesday. According to him, the company plans to cover the entire territory of Ukraine with its online store. The delivery of goods will be carried out from a warehouse located in Poland near the border with Ukraine. The online store will offer both delivery and customer pickup from the physical retail outlet.
Guieu also said that the company plans to expand production of own goods in Ukraine, which was launched in 2012.
"Ukraine is a fantastic country for production. We want to maximize the capacities for the production of footwear and non-technical goods here. We will try to produce more in Ukraine for the European market … Production is partnership, we do not own production facilities [in the countries of presence] with a few exceptions," Guieu told Interfax-Ukraine in a comment.
In Ukraine, Decathlon produces goods in Zakarpattia, Sumy and Chernihiv regions.