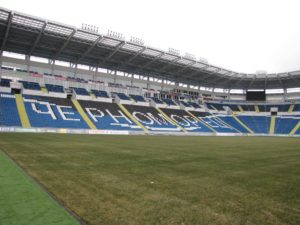 The Individuals' Deposit Guarantee Fund plans on June 25, 2019 to hold a Dutch auction for the sale of non-residential buildings of the Chornomorets central stadium at 1/20 Marazliyevska Street in Odesa. According to the press service of the agency, the lot also includes the rights of claim under 40 contracts signed with legal entities.
"All the assets are on the balance sheet of JSC Imexbank and offered in this composition for the first time. The initial selling price is UAH 3.666 million. The total area of non-residential real estate located in the historical center of Odesa, which is sold as a single lot, is 80,300 square meters," the report says.
It says Chornomorets stadium, in addition to the sports part, includes a business center with a restaurant with a total area of 10,700 square meters, a fitness center of 4,300 square meters, a hotel of 9,800 square meters, an underground parking lot, etc.