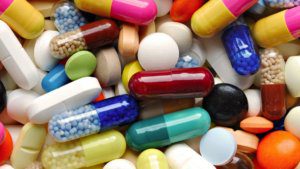 Original Ukrainian medicines are not available in the markets of the United States and the European Union (EU) over the absence of state support for research in Ukraine, Director General of Research and Industrial Center Borschahivka chemical and pharmaceutical plant (Kyiv) Yulia Zdarevska has said. "Original Ukrainians medicines are not usually introduced in the United States and the EU, not because of their low efficiency, but because of the lack of state support in Ukraine for the development of original drugs at the state or regional levels," she told Interfax-Ukraine, commenting on the results of research on the market for drugs with insufficient evidence base, initiated by Anti Corruption Action Centre (AntAC) with the support of the International Renaissance Foundation.
Zdarevska said that the lack of registration in the United States or Europe is not proof of the inefficiency of medicines.
"Throughout the world, the registration of the drug in the FDA and EMA is a voluntary decision, not an obligation. Therefore, the substitution of concepts is clearly visible, therefore we believe that the group of drugs mistakenly described in the report as "Medicines Without Proven Effectiveness" should be referred to as" Medicines, the Use of which in the United States or the EU was not Envisaged by the Developer," she said.
The general director of the plant said that the cost of a full cycle of developing and approving a new original drug in the United States could reach $2 billion.
"These costs today are unaffordable for the Ukrainian pharmaceutical industry," she said.
Zdarevska said that the studies that pharmaceutical companies conduct to register their own drugs include safety and efficiency studies in accordance with established requirements.
"If these studies are not conducted, the drug cannot be registered. Thus, while demanding the prohibition of drugs not registered in the FDA and EMA, the authors of the research, in the first place, call into question the activities of state (and not only Ukrainian) regulatory authorities," she said.
At the same time, Zdarevska said that the use of medicines in only one or several countries is a global practice, and the only necessary confirmation of the quality, effectiveness and safety of the drug is the availability of public registration.
She also recalled that in Ukraine for many years there is a pharmacovigilance system that allows the continuous collection, analysis and use of all information on side effects and the experience of clinical use of medicines.
Zdarevska said that Ukrainian pharmaceutical companies also export their medicines to more than 60 countries.
Research and Industrial Center Borschahivka chemical and pharmaceutical plant is among top 20 largest pharmaceutical manufacturers in Ukraine. It is a member of the Association Manufacturers of Medications of Ukraine (AMMU).