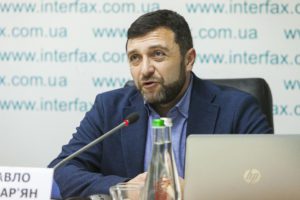 Columb Trade LLC, which delivers cars from the United States, accuses staff of Kyiv's State Fiscal Service of misconduct and confiscation of personal property of the company's co-founders during raiding the company's office, Columb Trade co-founder Pavlo Kazaryan said at a press conference in Interfax- Ukraine on Tuesday.
According to Kazaryan, during the raid, the employees of the State Fiscal Service seized $28,000, nine MacBooks and 11 iPhones, including personal funds and equipment of the company's employees.
He said that the raid was made on December 26, 2018 on the basis of a ruling of the Holosiyivsky District Court as part of a pretrial investigation registered on the signs of a criminal offense of covering up illegal activities and tax evasion.
Kazaryan himself considers these actions of the employees of the State Fiscal Service as pressure on legitimate business and raiding.
ACCUSES, BUSINESSMAN, FISCAL SERVICE, ILLEGAL ACTIONS, TAXMEN