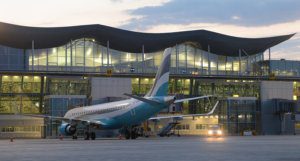 The Boryspil international airport (Kyiv) plans to launch Terminal F by the start of the summer navigation of 2019, First Deputy Director General of the airport Yevhen Dykhne said at a press conference on Wednesday.
He does not link the opening of this terminal with the start of the largest European low cost airline Ryanair in the airport.
"The Boryspil airport exhausted its potential in the peak loading, and Terminal F will be opened by summer navigation of 2019," he said.
Earlier the airport head, Pavlo Riabikin, said that if Ryanair flies at least 15 flights a day, mothballed Terminal F would be opened.
"We are preparing for this and, first of all, this is linked to our calculations regarding the increase in passenger traffic. The second important factor is that at peak hours we reached the largest throughput in Terminal D and can no longer provide services to airlines that order slots for peak time. We already refuse airlines in provision of slots, which means that the capacity of Terminal D is not enough," Dykhne said.
He also said that those airlines that fly at peak times, but do not participate in the transfer program of the airport and do not provide transit passengers, will be transferred to Terminal F.
"We will try to focus Terminal D on our hub operation model. As for those airlines that do not participate in the transit, we will offer them a transfer to Terminal F," Dykhne said.
He also recalled that it was agreed that after the opening of Terminal F, Ryanair flights will be transferred to this terminal.
Boryspil International Airport is the main airport of Ukraine. The airport has two runways: one with a length of 4,000 meters and a width of 60 meters, and the second with a length of 3,500 meters and a width of 63 meters. Four passenger terminals, postal and cargo complexes are located on the territory of the airport.