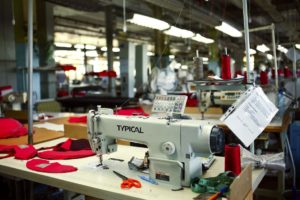 The Textile-Kontakt Group, a large retail and industrial groups on the light industry market in Ukraine, has launched a sewing factory in Lubny (Poltava region), which will make overalls, the company has reported on its website. "This is the fourth platform of the company, focused on implementing complex orders," the company said.
As reported, the holding's sewing factories operate in Kyiv, Chernihiv and Odesa. The production capacity of the new factory is 90,000 sets per year. It is planned, in particular, to sew military field and summer uniform sets, as well as uniform sets with special properties (fire-resistant, water-repellent).
According to the company, the new factory can implement government orders for the supply of uniforms and workwear for the Ministry of Defense and the National Guard of Ukraine, Ukrzaliznytsia, airports and nuclear power plants.
The press service told Interfax-Ukraine that Textile-Kontakt invested about UAH 4.5 million in the new factory. "The fabric for sewing will be basically ours, and the threads are completely ours (the Barva trademark). We want to create a closed production cycle," the company said.
A total of 97 people have been employed at the sewing production facility in Lubny today. Textile-Kontakt was founded in 1995 and today represents a holding company that combines various areas of assets: wholesale and retail trade, the import of fabrics, accessories and home textiles, as well as tailoring of special clothing (including military uniforms).