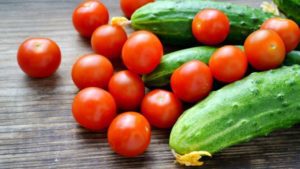 Ukraine in January-June 2019 imported 7,000 tonnes of cucumbers and 55,000 tonnes of tomatoes, which is respectively 38% and 15% more than in the same period of 2018, according to the website of the Ukrainian Horticultural Association. According to the association, the import of both cucumbers and tomatoes in the six months was a record high for the last decade.
The association noted that the export of greenhouse vegetables continues declining. Thus, the supply of tomatoes abroad since the beginning of the year amounted to a mere 970 tonnes, which is three times less than last season. The export of cucumbers also almost halved compared with 2018 and amounted to 1,300 tonnes.
"This trend in the cucumber and tomato markets is explained by the fact that Ukraine has been focused on the Russian market for a very long time, which after the worsening of the political situation between the countries became inaccessible to us. Moreover, domestic producers find it difficult to compete in the domestic market with Turkish products, because the cost of gas and electricity in Turkey is much lower than in Ukraine. Now, Ukrainian producers of greenhouse vegetables require import quotas and the introduction of trade duties for imported products," Yekateryna Zvereva, the director for development at the association, said.
The loss of the Russian market forced greenhouse owners to seek new sales markets and expand the range of products.
"Today, the main importers of Ukrainian tomatoes and cucumbers are Belarus and Poland, the countries that re-export these products," the report says.