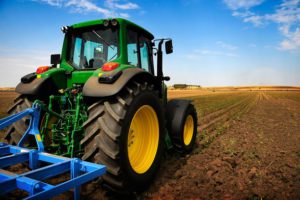 According to preliminary data, JSC Kharkiv Tractor Plant, belonged to DCH Group of businessman Oleksandr Yaroslavsky, completed 2019 with a net profit of UAH 71.8 million, whereas the loss was UAH 81.4 million in 2018.
According to information on the agenda of the shareholders' general meeting on April 23, the uncovered loss amounted to UAH 582.76 million by the beginning of 2019 (UAH 654.06 million in 2018).
The draft decision of the meeting provides for directing the net profit received in 2019 to replenish working assets, not to pay dividends.
According to the plant, in 2019, its current liabilities decreased 6.8%, to UAH 1.374 billion, long-term ones increased 45%, to UAH 266 million.
The total receivables as of January 1, 2020 amounted to UAH 155.4 million (UAH 96.71 million in 2019), total assets were UAH 1.280 billion (1.262 billion).
The plant's equity capital has a negative value of UAH 362.75 million, charter capital was UAH 4.35 million by the beginning of 2020.
According to the plant's website, it produced 585 units of equipment in 2019 (12% more than in 2018) and sold 638 units (16% more). The plant's revenue increased by 22%, to almost UAH 800 million.
To date, the plant has about 1,100 employees; the average salary is UAH 10,000 (UAH 7,800 by the beginning of 2019).
Kharkiv Tractor Plant, founded in 1930, currently produces dozens of models of tractors and special-purpose equipment designed for work in agriculture, public utilities and construction areas. The main product range is represented by small tractors with a capacity of 35 hp, as well as large wheeled and tracked tractors with a capacity of 150-280 hp.