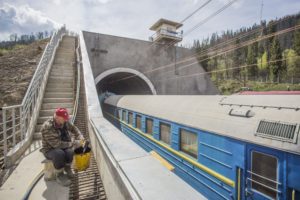 The Kyiv City Council at a meeting on Thursday approved the attraction of a loan of EUR 110 million from the European Bank for Reconstruction and Development (EBRD) to buy rolling stock under the Kyiv City Public Transport Project II.
According to the decision, municipal enterprise Kyiv Metropoliten will receive a loan of EUR 50 million at 6% per annum and the period of up to 12 years, including the two year grace period for paying the principal of the loan. Municipal enterprise Kyivpastrans will receive EUR 60 million for the period of up to 13 years at 6% per annum, including the three year grace period.
As reported, Kyiv city after Lviv has become the second city in Ukraine and 21st in the region, which joined the Green Cities Project of the EBRD.
According to a press release of the Kyiv City Administration issued the signing of the memo, the city plans to use this programme to implement projects for the renewal of the Kyivpastrans and Kyiv Metropoliten's fleet with new buses, trolleybuses and subway cars, as well as a comprehensive reconstruction of the tram line and the Kontraktova Ploscha stop and overhaul of the Metro Bridge.
Recently, the EBRD Credit Committee approved the concept of projects for an estimated total cost of EUR 320 million, Kyiv Mayor Vitali Klitschko then said.
Under the Green Cities programme the EBRD provides support to partner cities in designing and implementing Green City Action Plans and assistance in selecting investment programmes and providing financing by international donors. In particular, the Green City Action Plans include measures to improve urban infrastructure, quality of air, cleanness and availability of land and water resources, green space areas.
The pilot programmes were implemented in Georgia, Armenia and Moldova. The programme was then approved by the EBRD board in autumn 2016. Lviv city was the first Ukrainian city participated in the programme. The city managed to raise EUR 20 million for Zelene Misto municipal enterprise for building a waste treatment facility and the rehabilitation of the Hrybovychi solid household waste landfill.
In autumn 2018, the EBRD approved the extension of the Green Cities programme (Green Cities 2) with the provision of up to EUR 700 million. Currently the programme has over EUR 1 billion of confirmed financing, including over EUR 250 million that has been invested.