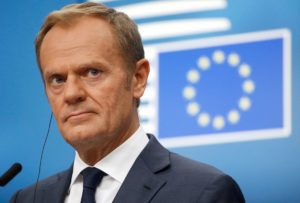 President of the European Council Donald Tusk is waiting for the Ukraine-EU summit in July 2019 and talks about this over telephone with the winner of Ukraine's presidential elections Volodymyr Zelensky. "First, good phone call with Ukraine's President-elect Volodymyr Zelensky. I assured him of the EU's steadfast support to Ukraine. Looking forward to our cooperation and EU-Ukraine Summit in July," he wrote on Twitter on Tuesday.
Tusk also said that he had a telephone conversation with incumbent President Petro Poroshenko, "after 5 years of good cooperation."
"The competitive, free and fair presidential elections with a peaceful hand over is the best proof of Ukraine's progress and democracy," the European Council president noted.