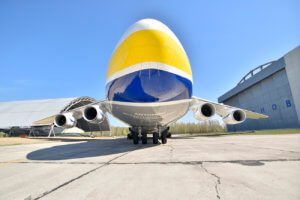 Antonov State Enterprise (Kyiv), part of the Ukroboronprom State Concern, and division of U.S. Boeing – Aviall Services, Inc., which reached an agreement on partnership under the program to manufacture modernized Ukrainian next generation regional jets An-148/158/178 at Farnborough 2018 in London in July, plan to complete the designing of a cooperation scheme step by step during the implementation of the general agreement on cooperation.
Commenting at the request of Interfax-Ukraine on the plans Antonov State Enterprise announced in Western media to resume mass production of the planes with the assistance of Boeing already by the end of 2019, the company's press service said: "The general agreement signed at Farnborough 2018 with Aviall does not have the terms of the start of the mass production of the aircraft with participation of the U.S. company, since the U.S. company is not involved directly in the production process."
"The signed agreement is the basic one, and fixes agreements on the organization of work with Aviall Services, Inc., which will ensure the procurement and supply of the Antonov state enterprise with a wide range of components for the mass production of new aircraft," the press service said.
"The document also includes the plans of the parties for the creation of a licensed warehouse by the Antonov state enterprise in its territory, where Aviall will supply the components. The products supplied by the U.S. company will be paid by Antonov State Enterprise as far as the chain of purchases for filling the warehouse is secured. As the media mistakenly interpreted, there is also no provision in the signed general agreement that Boeing participates in the creation of the warehouse," the press service said.
The press service of Antonov State Enterprise reported that the creation of a scheme for prospective cooperation with Aviall Services Inc. was not completed at this stage: "Details of this process will be specified at each stage of cooperation," the official representative of the enterprise said.
"Details of the prospective partnership between Antonov State Enterprise and the Boeing division under the program, which has the conventional name An-1X8 NEXT in the signed general agreement, can be announced after the signing of the contracts for the supply of components and the transition to the practical phase of cooperation under the project," the press service said.